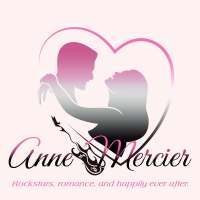 Anne Mercier
Contemporary Romance, New Adult Romance, Romance, Teen & Young Adult
Anne Mercier is the author of the bestselling Rockstar, Truths, and The Way series. She was born and raised in Wisconsin and still lives there today.

She's an avid reader who gets inspired by reading the stories from her favorite authors as well as listening to various types of music. She is a huge fan of music, chocolate, fruit, desserts, autumn, M. Shadows, Avenged Sevenfold, and Milo Ventimiglia. Through her books, she is proudly creating new Avenged Sevenfold and Milo Ventimiglia fans one reader at a time.
When I am dead, I hope it may be said: His sins were scarlet, but his books were read.
Hilaire Belloc